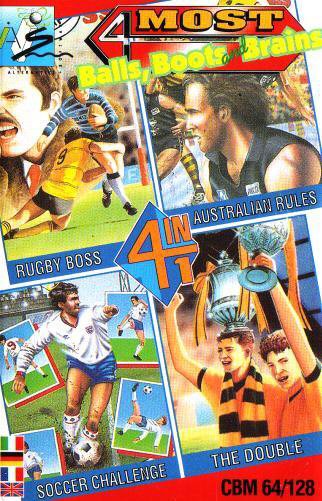 Australian Rules Football
Nows your chance to take part in the world's most aggressive sport.
Teams from New South Wales, Queensland, Victoria and South Australia fight their way, in TWO completely separate games to the top of the tough AUSSIE leagues.
Battle it out in the O.A.L. (OUTBACK AMATEUR LEAGUE) or flip the cassette over where more teams compete over an even tougher season to climb to the top of the V.E.L. (VICTORIAN FOOTBALL LEAGUE) to win the VICTORIA CUP.
Soccer Challenge
Rugby Boss
Ever fanced yourself as boss of rugby team? Well now's your chance to test your decision making and managerial skills with Rugby Boss.
You are responsible for team selections, finances and game tactics, in fact every element of running a rugby league team. Your aim is simple. To win the championship while gaining assets along the way.
You have the choice to load and save the game position at any point after a match. This not only saves your players status, but the status and positions of every team, thus extending your game after days, weeks or even months.
The Double
AT LAST...THE REAL THING.
1000 Players each with individual running, passing, shooting and tackling abilities play 42 weekly fixtures from 3 divisions.
BUY and SELL players on the TRANSFER MARKET where each player commands his own Wage and Transfer Fee.
Other Clubs will enquire after your services if you are successful...