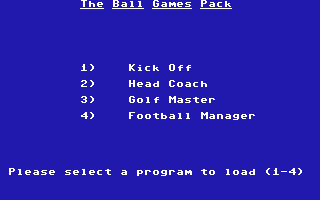 Kick Off
KICK OFF is a football game played in an actual stadium, scaled to the size of your screen. The teams play according to strategy (4-3-3, 5-3-2, 4-2-4...) that you determine at the beginning of the game.
Head Coach
This is an American "Football Manager" with all the enjoyment of building a team that can climb up through the leagues to win the Superbowl.
Golf Master
It's time for one of the most challenging rounds of golf you'll ever play! Featuring a training mode, up to 4-players, 3 levels of difficulty and 9 or 18-hole matches, Golf Master is the real thing; Fore!!
Football Manager
The World's Best-Selling Soccer Game - Special Features Include: Transfer Market - Full League Tables - Injury Problems - Save Game Facility - Promotion And Relegation - F.A. Cup Matches - Managerial Rating - Divisions - As Many Seasons As You Like - Pick Your Team For Each Match - 7 Skill Levels.