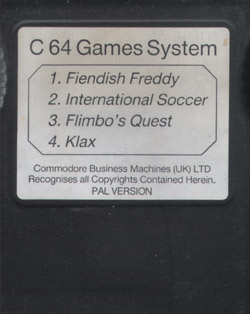 International Soccer
Commodore's INTERNATIONAL SOCCER is one of the most realistic sports games available for the C64 Games System. This is a game that demands strategy and skill to master. This game challenges the best, but it's still fun for the less skilled player. Countless game details make this an outstanding version of soccer, with strikingly accurate and exciting play quality.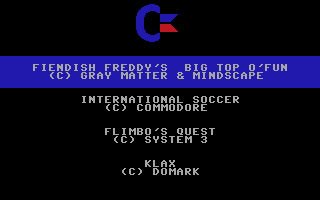 Fiendish Freddie's Big Top O'Fun
Your small, struggling circus is about to be seized by a sinister hoodlum, to whom you owe the sum of 10,000 smackeroos. Your Big Top will be backtop if you don't bag the bucks needed to banish the barbarous banker from your beloved business.

Also included in this compilation are Flimbo's Quest & Klax, but since those games have nothing to do with sports, you won't find any more info about those games.