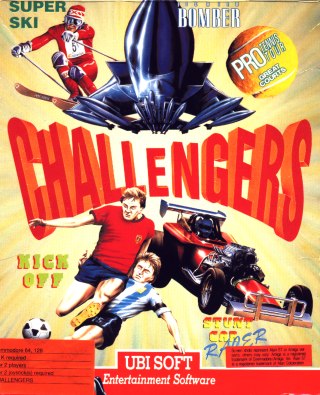 SET OF SIMULATIONS all versions.

Achieve excellence with this superb set that combines the greatest SIMULATION HITS! CHALLENGERS!
Definitely RESERVED FOR THE BEST
Stunt Car Racer
"Stunt Car is utterly brilliant and offers adrenalin-pumping, gutwrenching high speed action that'll keep you engrossed for momths." C+VG
Kick Off/Anco Software
THE MOST ELABORATE 3D FOOTBALL SIMULATION AVAILABLE, whichshows with full realism the trajectory and movements of the ball according to the players and the wind.
Pro Tennis Tour/UBI Soft
THE ULTIMATE TENNIS SIMULATION
You've always wanted to test your skills against top-seeded players! Now's your chance to compete with the best!
Super Ski
A 3D ski simulation incorporating speed and realism.
Fighter Bomber
This game isn't a sportgame and that's why no more information about this game is here.