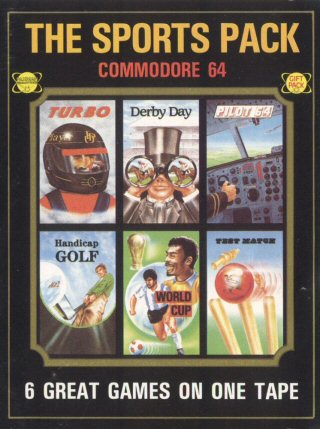 Turbo 64
From the driving seat of your Formula 1 racing car you have a dynamic view of the road, with scenery flashing by and road signs hurling towards you. In front of you the instruments; speedo, rev counter, gear shift and steering wheel put you in complete control. Smell the rubber burning and grip your teeth as you tear down the straights and scream into the bends. Test your driving ability in this multi player game of skill and daring.
Derby Day
Place your bets for this exciting graphic simulation of the sport of kings. Up to five players can compete to become the king of the turf.
Handicap Golf
Another fast action graphic sports simulation from CRL. A golf program to beat all others! This is an animated 3-D simulation of an 18 holf Golf Course with a caddie and full selection of clubs.
World Cup
A fabolous simulation of real soccer. With complete multi-colour graphics. Up to nine players can try to become the holder of the most covered trophy...The World Cup.
Test Match
Test Match and One Day Cricket are 3D animated simulations of our national game for Commodore 64 from Computer Pentals.
Pilot 64
This game isn't a sportgame, so no more info about this game.