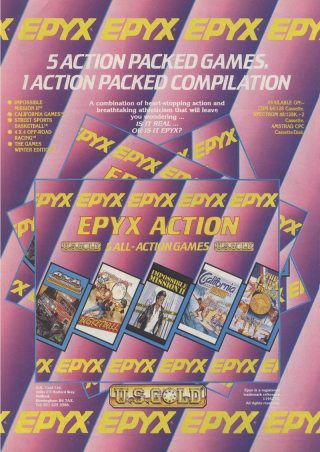 Impossible Mission II
This game isn't a sportgame, so no more information about that game.
4x4 Off-Road Racing
Four of the toughest, roughest courses gives you the ultimate driving challenge: the Georgia mud flat, the Michigan Winter Wreck-Off, the Death Valley Trek or the Baja challenge. Snow, ice, mud and desert all combine to make Off-Road Racing the most hazardous road game yet. It makes the Grand Prix look like child's play.

Street Sports Basketball
There've never been this many obstacles to proving you're the best. Then again, Street Sports Basketball isn't like any basketball game you've ever played on a computer. But it's just like any basketball you've ever played for real.

California Games
CALIFORNIA GAMES is a challenge of skills for one to eight players. The object of the game is to win trophies in each individual event. Players can also compete for the top trophy in overall competition.

The Games: Winter Edition
You are competing against the world's greatest in the greatest and toughest series of winter sports yet devised. Seven events to test your your skill and nerve to the utmost; each one with its own individual demands.