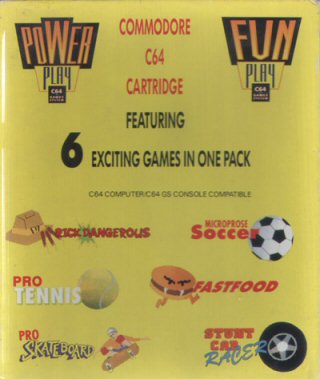 Pro Tennis Simulator
Fantastic two player action.
"You've got to be kidding, the ball was IN!, see the chalk dust!!!." All the atmosphere of Major League Tennis - serve that ACE, SPIN and SLICE, work your way to the top with this superb simulation.

One or Two Players, Grass and Clay courts.

Stunt Car Racer
Step into the driving seat of one of the most wicked stunt cars around as a Stunt Car Racer. It's now up to you to prove just how good you are and to see whether or not you can ultimately become Division One Champion.
Fast Food & Rick Dangerous
This game isn't a sportgame and that's why no more information about this game is here.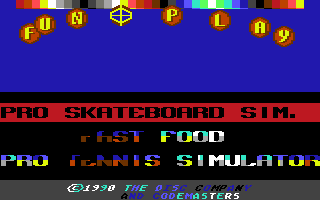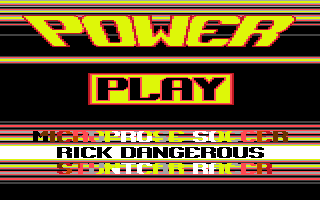 Microprose Soccer
With a choice of sixteen teams, variable weather conditions, a wide range of kicking and tackling skills (including, we're pleased to see, a banana kick), oneplayer, two-player or multi-player options and a stirring soundtrack from recent signing Martin Galway, this looks like it might well become the footie game. And just in time for the new season too.
Pro Skateboard Simulator
7 Skateparks and 7 Cross-Country sections for One or Two Players to tackle. Do 1 80s, 360s, 720s - the lot! Crucial action!