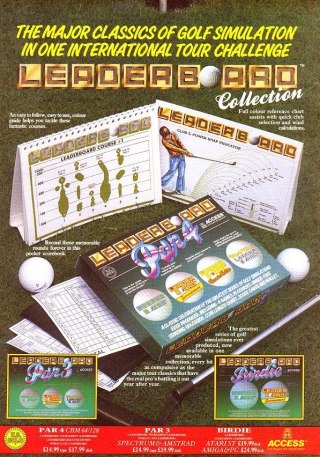 The Major Classics of golf simulation in one international tour challenge. An easy to follow, easy to use, colour guide helps you tackle these fantastic courses.

Full colour reference chart assists with quick club selection and wind calculations.

Record those memorable rounds forever in this pocket scorebook.

The greatest series of golf simulations ever produced, now available in one memorable collection, every bit as compulsive as the major tour classics that have the real pro's battling it out year after year.
Leader Board
With amazingly realistic three dimensional animation, golfers will face multiple 18-hole golf courses that demand strategy, total concentration, and control to come in under par. Leader Board has three levels in one of the most realistic golf simulators made for today's computers.

Leader Board Executive Edition
LEADERBOARD EXECUTIVE EDITION is a game of concentration, co-ordination and control. You will need to judge distance accurately in choosing your club and power of your swing. With practice, you will soon be playing LEADERBOARD EXECUTIVE EDITION like a touring professional.

Leader Board Tournament
Tournament Cassette #1 contains four new 18-hole golf courses. You will find these courses are more difficult than those in Leader Board and each requires excellent shot making ability to stay out of trouble.

If you're ready for a challenge, these four additional courses will deliver all you can handle.

World Class LeaderBoard
Now you have the opportunity to play the same courses that have challenged golf's greatest legends.

World Class LEADERBOARD features three famous 18 hole golf courses and each hole authentically reproduces the distance, traps, trees, rough and water hazards of: St Andrews: The most revered course in golf. Doral Country Club: The Florida Blue Monster. Cypress Creek: The Largest and the Finest.

ZZAP64! Overall Rating: 81%
A very good package which should appeal to golfers and non-golfers alike, but would have been better at a lower price, perhaps in a less fancy box without the free course and club guides and the score sheets.