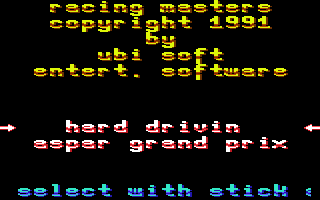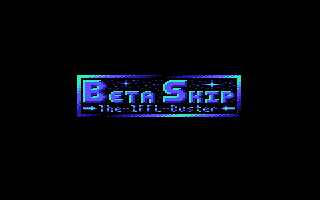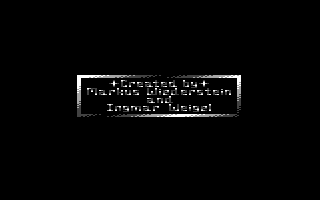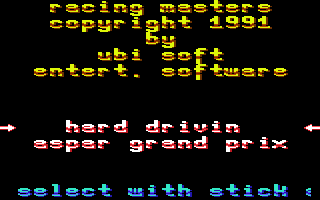 Hard Drivin'
The Ultimate Drivin' Simulation. Experience the thrills and spills of racing in realistic, solid 3D.
It's MEAN. It's HARD. It's HERE! HARD DRIVIN', the ultimate driving simulator, races on to your home computer from its runnaway success in the arcades.
Now you can get behind the wheel of the world's top sports car on a stunt course. Jump bridges, drive the speed track or even get dizzy on the vertical loop - all in super realistic solid 3D.
Top drivers can challenge the Phantom Photon in a head-to-head, no holds barred contest to find the top Hard Driver!
Ferrari Formula One
Ferrari Formula One brings all of the depth and excitement of the Grand Prix race circuit to your computer. You'll have plenty of races to run, but you'll also have a pit crew to manage, a Ferrari Formula One 1986 (F186) race car to modify and test, deadlines to meet, and schedules to keep.
But all of this is only for those who want to run the full simulation. If you just want to get behind the wheel of a Ferrari (the most successful Grand Prix racing team in the world), then you can do that as well.
Aspar Grand Prix Master
Welcome to the World Championship of 80 c.c. Motorcycling. Direct on your screen - taken from true life.
From the tough practice sessions of the dazzling speed of the race, passing through demanding qualification heats that determine your position on the starting grid (if and when you qualify).
All this on 7 racetracks across the world. 12 men in a relentless struggle for victory.
GRAND PRIX MASTER, a program developed under the guidance and supervision of the four times World Champion Jorge Martinez "Aspar".
An authentic simulation featuring:
- Detailed reproduction of the actual racetrack
- Partial and general classifications standings.
- Scoreboard with speed indicator, chronometre, position and laps left to finish.
- Information from boxes (time, last lap, etc...)
GRAND PRIX MASTER is so real that when you cross the finish line in first place you will feel the emotion of winning. Then its time to take off your helmet and uncork a huge battle of champagne in celebration.