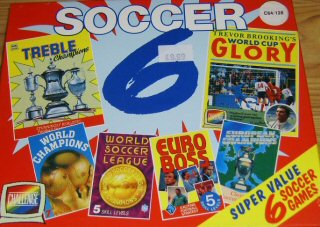 Treble Champions
STUNNINGLY REALISTIC STRATEGY GAME Can YOU Win the League Championship, The F.A. Cup and the League Cup?

World Champions
A Complete World Cup Simulation - Select Friendlies - 25 Players - Qualifying Group - 2 In-Match Subs - Discipline Table - Select Tour Opponents - Extra Time - Final Rounds - Players Gain Experience - 7 Skill Levels - Text Match Simulation Including; Bookings, Goal Times, Named and Recorded Goal Scorers, Injury Time, Corners, Free Kicks, Match Clock, Penalties & Many More Features.

Trevor Brooking's World Cup Glory
You have just been appointed the National Team Manager and you have inherited a squad of players that have struggled to find their form and have suffered a series of demoralising defeats.