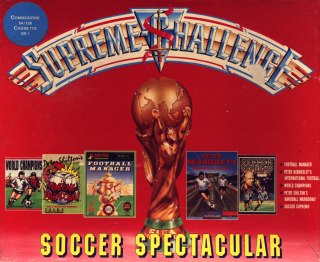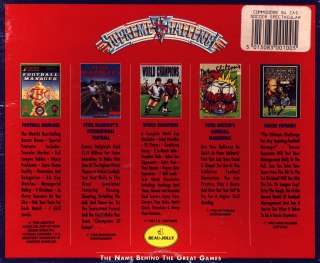 Football Manager
The World's Best-Selling Soccer Game - Special Features Include: Transfer Market - Full League Tables - Injury Problems - Save Game Facility - Promotion And Relegation - F.A. Cup Matches - Managerial Rating - 4 Divisions - As Many Seasons As You Like - Pick Your Team For Each Match - 7 Skill Levels.
Peter Beardsley's Intern.Football
Kenny Dalgleish Paid £1.9 Million For Peter Beardsley To Make Him One Of The Highest Priced Players In British Football. Test Your Skills In This Great Simulation Featuring Passing, Shooting, Dribbling The Ball, And Throw--Ins. Try The Tournament Format And You Could Make Your Team "Champions Of Europe".
Peter Shilton's Handball Maradona
Are your reflexes as quick as Peter Shilton's? Find out just how good a keeper you are in this addictive football simulation. You can practice, play a game and even test your self to try for a higher skill grading.
Soccer Supremo
Have you ever fancied yourself as a football manager? Ever thought you could do a better job than the top professionals? If so, then here's your chance! The ultimate challenge for any aspiring football manager.
World Champions
A Complete World Cup Simulation - Select Friendlies - 25 Players - Qualifying Group - 2 In-Match Subs - Discipline Table - Select Tour Opponents - Extra Time - Final Rounds - Players Gain Experience - 7 Skill Levels - Text Match Simulation Including; Bookings, Goal Times, Named and Recorded Goal Scorers, Injury Time, Corners, Free Kicks, Match Clock, Penalties & Many More Features.