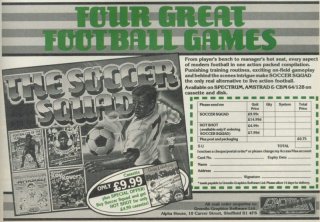 Footballer Of The Year
You are a 17 year old apprentice in the 4th division with only £5000 and 10 goals to your name. Have you got what it takes to cope with the trauma of transfer deals, injures and other match day problems, while displaying skill and professionalism in matches throughout Europe. Rise through the divisions, outclassing rivals on the way to prove you are the best and gain the highest accolade.....Footballer of the year!
Gary Lineker's Super Skills
Now you can help Gaz limber up in his private gymnasium. You know the sort of thing: press-ups, squat thrusts, weight lifting and moneky bar swinging. There's a time limit on each exercise - you could end up starting from the beginning again. Rotten bleeder!
Roy Of The Rovers
NEWS FLASH! Four of the Melchester Rovers five-a-side football team have been kidnapped... hours before a crucial fund-raising game to save their ground from grasping property developers.
Time is running out and player-manager Roy Race MUST rescue his team-mates, dodging danger, escaping ambushes and boody traps in order to play the most important game of his career!
Gary Lineker's Superstar Soccer
Welcome to the SportTime Soccer League, better known as the SSL. Headers, bicycle kicks, passes, dribbling, injuries - Superstar Soccer contains all the action, realism, and excitement of outdoor soccer. Play center forward or goal-keeper.