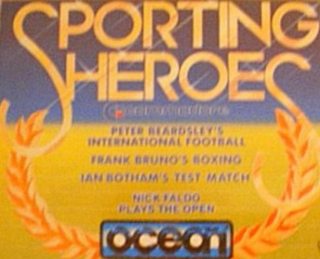 Frank Bruno's Boxing
GAME FEATURES:
Eight fiery opponents, each with their own distinctive fighting style.
Smooth-scrolling camera action, giving the best view of the fight at all times.
Furious three minute rounds with 'knock-down' and 'knock-out' features.
Warm-Up and 'Autoplay' sequences.
K.O. Meter, Best K.O. Time, Score and Bonus displayed on screen.
Additional boxers to load from tape.
Hall of fame.
Endorsed by Heavyweight Champion - Frank Bruno.
Peter Beardsley's International Football
Peter Beardsley's International Football is the new all action soccer game which allows you to enjoy all the thrills of a top European International Tournament - from qualification right through to the finals. To give the maximum realism, you will qualify for the knock-out semi-final stage. Win this and you'll be through to the final and the chance to be Champions of Europe!

Ian Botham's Test Match
All the play feature's of the real game make Ian Botham's Test Match the only way to play cricket from your armchair!

Match selections, full pitch vision, a horde of batting strokes, 2 player game and many more features to give action packed realism. Hit 'em for six!

Nick Faldo Plays The Open
Using a multi-screen, scrolling map of the Royal St. George's golf course, now's your chance to take on the world's best.

You'll be prey to the Royal St. George's harsh weather conditions and, of course, it's terrifying bunkers, deceptive banking slopes and the awkwardly placed running streams.