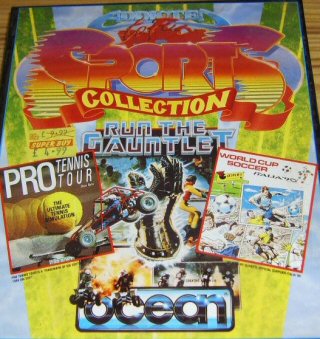 Pro Tennis Tour
Pro Tennis Tour lets you enter the world of a professional tennis player. Pack your favorite whites and trusty racket and then travel to the great Grandslam events: Wimbledon, French Open, U.S. Open and the Australian Open.

Run The Gauntlet
The "Run the Gauntlet" challenge is divided into three events, which are picked at random from the many in store. Each event consists of three segments, which can be either on land, water or the hill (assault course). Complete the challenge with the best score and you'll be awarded the "Run the Gauntlet" trophy. The vehicles you will be competing with are fast and exciting.

World Cup Soccer Italia'90
THE OFFICIAL licence of the last world cup, Italia 90 features a birds eye view of the pitch with on screen score and adjustable match timer. The game comes complete with a referee who'll award free kicks, penalties, corners, goal kicks and throw ins.