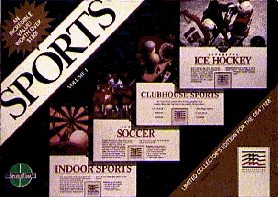 Club House Sports
Six stand alone games with realistc graphics and sound effects put you in the middle of the action. Get a kick out of Foosball, flip for 3-D Pinball, and take your cue and make a break with Billiards. Then roll out Skeeball, bounce around with Crazy Pool, and set your sights on the Shooting Gallery. Join the Clubhouse!
Indoor Sports
Four outstanding, challenging games will keep you entertained long after other games have been retired from competition. Get the ball rolling with Bowling. Darts won't leave you bored. Get a rush from Air Hockey. Finish off with a generous serving of Ping Pong.

Superstar Soccer
Run, shoot, pass, defend, change lineups, call strategies, trade and draft players - you have total control of your own soccer team as you play, coach and act as the general manager in the most complete, realistic outdoor soccer simulation available.

Superstar Ice Hockey
Play, coach and manage in the best hockey game ever created for home computers. Fire slap shots, hip-check opponents, make slick passes, block shots, trade and draft players, set up and rotate player lines - it's all here in the hockey game acknowledged to be the best.