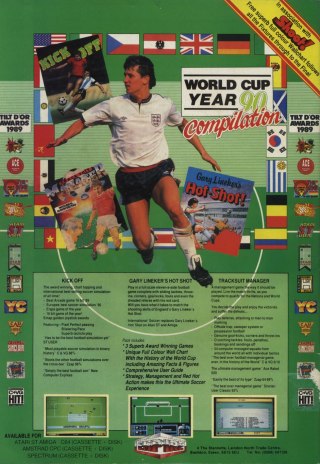 Gary Lineker's Hot Shot
Here is your chance to play in a full scale eleven a side football team complete with sliding tackles, headers, throw-ins, corners, goal kicks, fouls and even the dreaded referee with his red card! Try to take your team to the top of League Division One.
Kick Off
KICK OFF is a football game played in an actual stadium, scaled to the size of your screen. The teams play according to strategy (4-3-3, 5-3-2, 4-2-4...) that you determine at the beginning of the game.
Tracksuit Manager
FIVE MINUTES REMAINING and the score is 1-1. You must win against Italy to qualify for the NATIONS CUP FINALS when Robson intercepts a long pass and slowly moves forward - Altobelli challenges but Robson rides the tackle and sends a long through ball to Barnes... "Offside" shouts Caprini. "Play on" signals the ref. Lineker races towards the near post, Hateley moves back for the high cross...Barnes Shoots....