Computer Baseball
The Download contains the original release & a disk with the 1985 Season teams.
Also included are three disks with all of the 2003-05 Major League Baseball teams created by; Dave Nardone.
All of the batters and pitchers are from the 2003-05 teams, and all of their statistics are those of the 2003-05 seasons.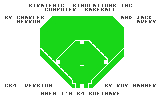 Copyright/Publisher:
SSI (Strategic Simulations, Inc.)
C64 Version By: Roy Wagner
Original Version By:
Charles Merrow & Jack Avery
Release Year: 1983
Number Of Players: 1