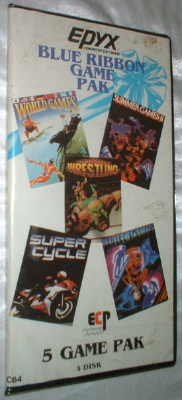 World Games
Look out, world. Here we come!
You're about to travel the globe with EPYX to compete in eight of the world's most glamorous and unusual sports. From Europe to the Far East, you'll be ocean-hopping to the sites where daring divers sail from rocky cliffs and giants of men match raw power in the sumo ring. You're going to be on their home turf. But it doesn't matter. You'll wipe them out.
"Excuse-moi. Wheech way to ze Slalom?"
Championship Wrestling
Take on any 8 rowdy wrestlers, each with his own individual style when it comes to busting heads. These guys are every dirty trick known to man and a few that aren't. So you'll have a real fight on your hands to win the coveted 'Championship Wrestling' Belt!
Super Cycle
Any more realistic and you'd need insurance to ride it. There are two guys in front. One coming up from behind. And another just off your elbow. The screams of the bikes are deafening. The wind is pulling your face off your head. Your adrenaline is pumping like Hoover Dam.
Winter Games
You're an athlete at the 1988 Winter Games at Calgary, Alberta, Canada. You're about to move across snow and ice with as much speed, strength, endurance and grace as you can muster in the blustery cold.
Summer Games II
SUMMER GAMES II challenges your competitive skills with a series of athletic contests for 1 to 8 players. Experience the excitement and realism of eight different events -- cycling, equestrian, fencing, high jumps, javelin, kayaking, rowing, and triple jump.