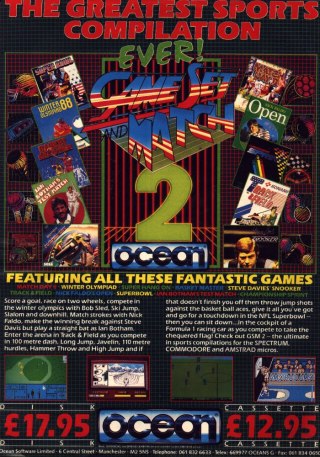 The Greatest Sports Compilation Ever! Featuring All These Fantastic Games:
Match Day II, Winter Olympiad, Super Hang On, Basket Master, Steve Davies Snooker, Track & Field, Nick Faldo's Open, Super Bowl, Ian Botham's Test Match & Championship Sprint.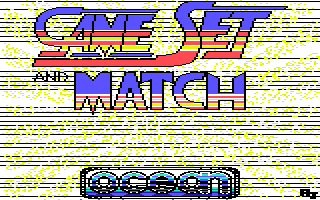 Score a goal, race on two wheels, compete in the winter olympics, with Bob Sled, Ski Jump, Slalom and Downhill, Match strokes with Nick Faldo, make the winning break against Steve Davis but play a straight bat as Ian Botham.
Enter the arena in Track & Field as you compete in the metre dash, Long Jump, Javelin, 110 metre hurdles, Hammer Throw and High Jump and if that doesn't finish you off then throw jump shots against the basket aces, give it all you've got and go for a touchdown in the NFL Superbowl - then you can sit down...in the cockpit of a Formula 1 racing car as you compete to take the chequered flag!
Check out GSM 2 - the ultimate in sports compilations for the SPECTRUM, COMMODORE and AMSTRAD micros.